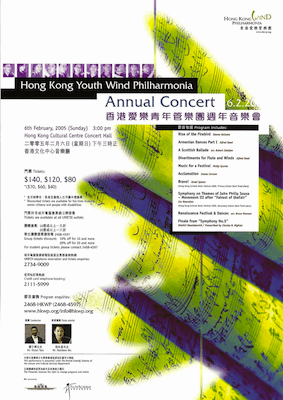 Hong Kong Youth Wind Philharmonia
Annual Concert 2005
6th Feb, 2005 (Sunday) 3pm
Hong Kong Cultural Centre Concert Hall
Victor Tam, Conductor
Matthew Wu, Flute Solo
Programme includes:
Steven Reineke: Rise of the Firebird
Alfred Reed: Armenian Dances Part I
Arr. Robert Sheldon: A Scottish Ballade
Alfred Reed: Divertimento for Flute and Winds
Philip Sparke: Music for a Festival
James Curnow: Acclamation
Jared Spears: Bravo!
Ira Hearshen: Symphony on Themes of John Philip Sousa - Movement III after "Fairest of the Fair"
Arr. Bruce Pearson: Renaissance Festival & Dances
Dimitri Shostakovich, trans. Charles B. Righter: Finale from "Symphony No.5"